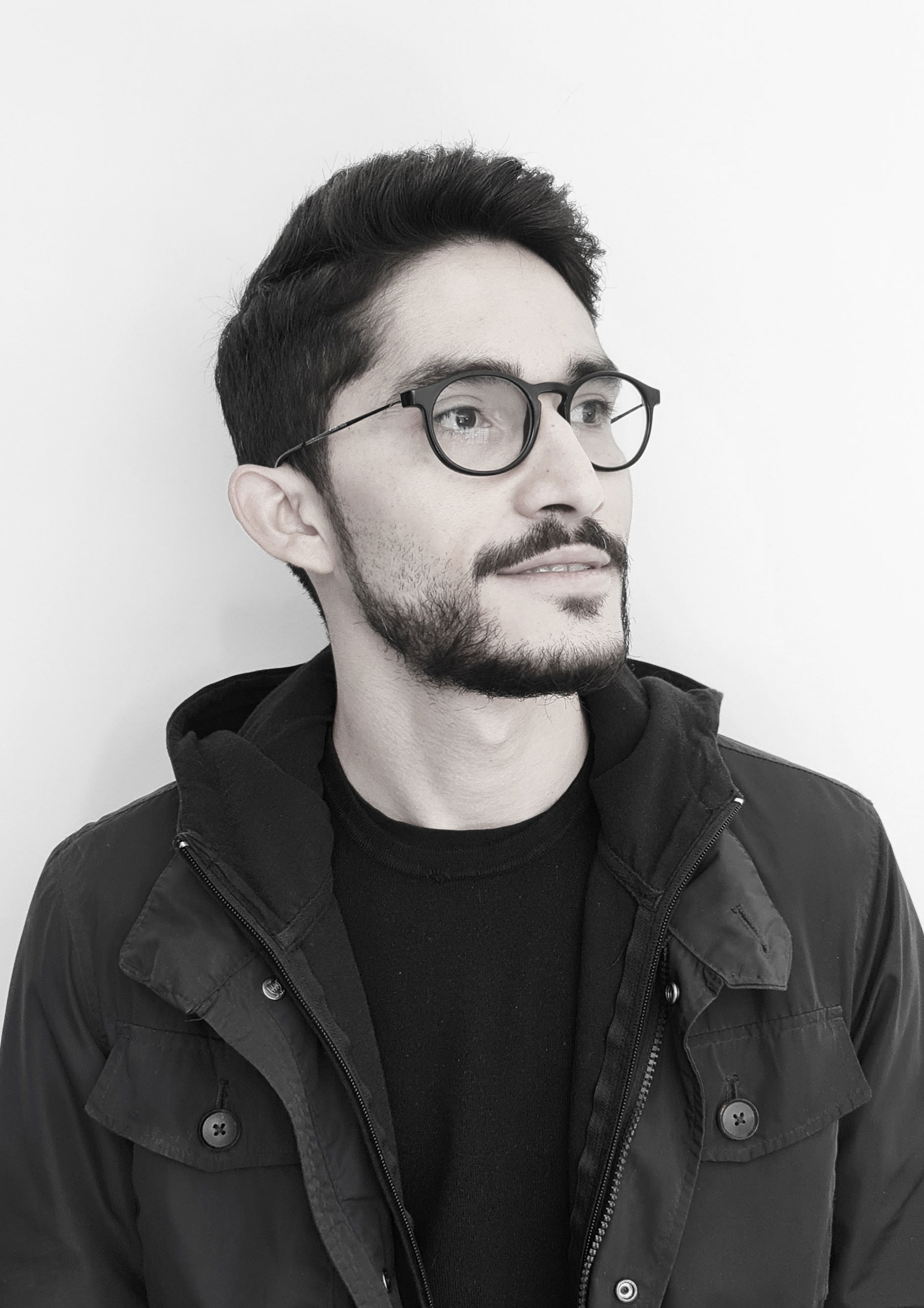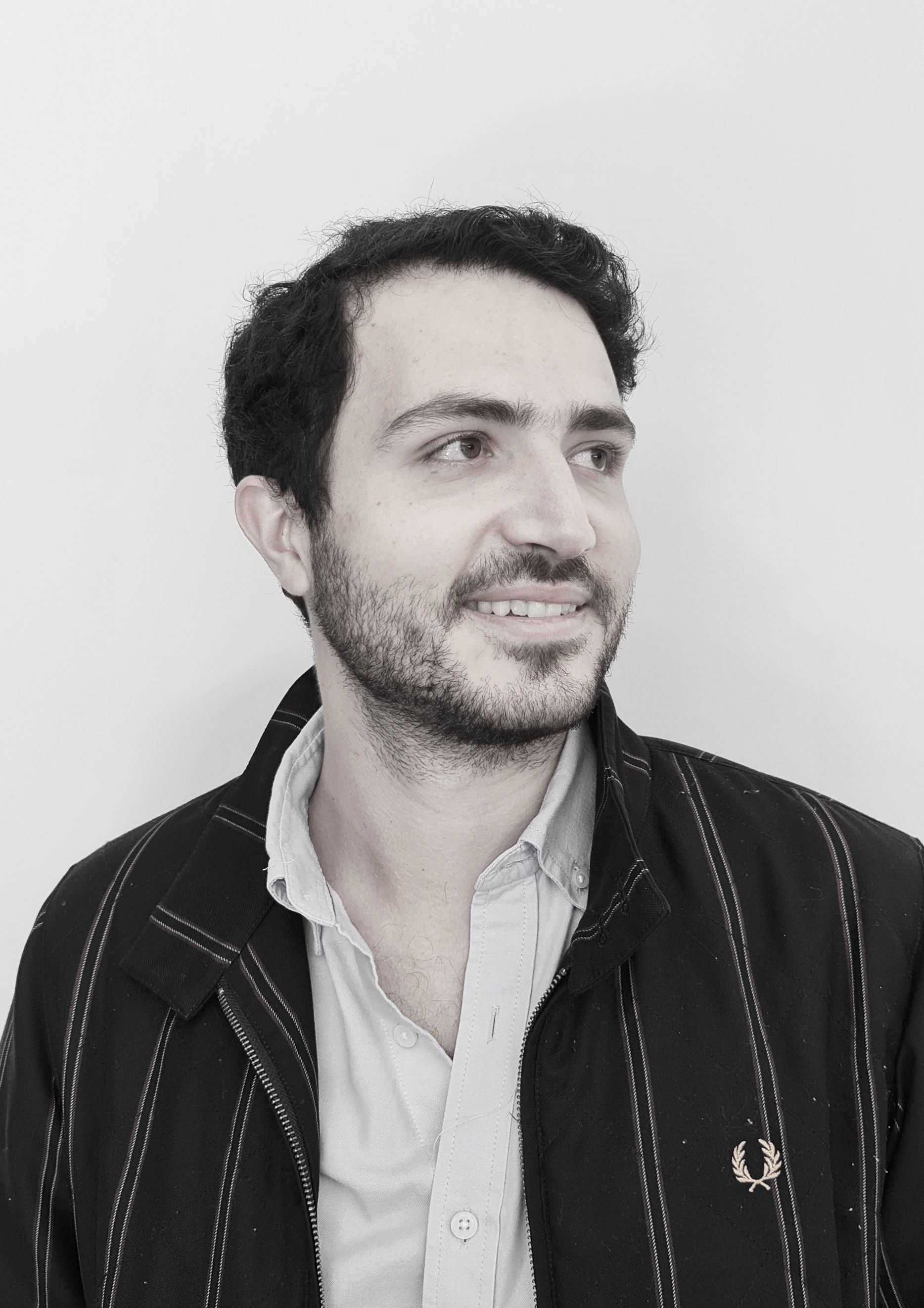 ALEJANDRO ALCALÁ
Alejandro is a founding partner of GPX architects based in Mexico City, he was an assistant professor for Tom Wiscombe at SCI-ARC (Southern California Institute of Architecture – Los Angeles, CA) in vertical studios for the bachelor's degree and master's degree, he also taught visual studies courses at the same institution. In recent years he has participated as a critic in project reviews juries at SCI-ARC He is a professor of computational design at the University of Los Andes (Bogota, Colombia). Alejandro has a master's in science in Architectural Technologies from the Southern California Institute of Architecture SCI-ARC and a bachelor's degree from the Autonomous University of Sinaloa. Prior to founding GPX Architects he worked at internationally renowned firms such as Tom Wiscombe Architecture and Michael W. Folonis Architects, in which he participated in cultural, housing, commercial and art exhibitions projects.
ANHUAR FARAH
He is a Mexican architect graduated with a bachelor's degree in Architecture from the Universidad Iberoamericana in Mexico City, and a master's degree in Architecture from SCI-Arc (Los Angeles, CA). He is currently a professor in design studio at the Universidad Iberoamericana. He worked at renowned engineering firms such as Walter P. Moore, with a high specialization in Facade Engineering, applied to international projects such as stadiums, airports and museums. Co-Founder of GPX Arquitectos based in Mexico City, specialized in the application of technology, high design and digital manufacturing at the national level.
Currently the main focus of their practice is directly linked to the use of emerging technologies, in design and construction by digital means. It also highlights the interest in preservation and contemporary interventions to buildings of historical heritage in Mexico. Some of their relevant projects are the design of two avant-garde museums in Mexico, and the new center of research and monitoring of the national seismological service.
Interview with GPX
Gabriel
First, I would like to thank you Anhuar and Alejandro for accepting this interview. I would like to talk to you about various things, teaching, technology, and education in Mexico, as well as what it means to be part of a group of people who have been out of the country and who have returned to Mexico to teach and practice.
Alejandro
Thank you, Gabriel, for inviting us. Willing to play these songs. We have several friends as we told you before we started the talk, which have been in different countries, in different universities and most of them have returned. It would be nice if you talked to them too. All of them have similar interests, the same desire to have an opinion, to raise their voices and put their grain of salt on all topics of architectural work in the country. To talk about architecture and comment on the political, social and cultural situation of the country.
Gabriel
This is so important, because it's something that happened to me, but I'm one of those who didn't go back. When we started this magazine we had no idea of the problems affecting education in Mexico. I have always been very impulsive which is a good thing and a bad thing. And in the face of an impulse, I came up the idea of this magazine. But the most interesting thing about all this has been that through these impulses, I have met several people who are beginning to reveal to us a series of topics that are deeply involved in this problem. Gradually you realize what is happening at the academic level, what is happening at the government level, as well as the problems of cultural and economic life in Mexico.
There are lots of interesting topics and things. But let's move on to our first question, which we've asked everyone we've had a chance to interview. How do you see the role of the architect through your own experience and definition of the practice?
Alejandro
We understand the role of the architect as a socially active agent, that day by day you are in contact with the community, observing in detail its functioning, finding problems and what actually works. I mention because whether you want or not take it to the table of ideas where the projects are born. The role of the architect today, we see it as an activity of being present and aware of the political, social and economic issues of the country and the world, today more than ever we have to be aware of everything that happens, to be aware and empathetic of everything that happens to us as a society, and at the same time to be up to date with the constant progress in technological innovation in all fields potentially related to our discipline, to be guided and influenced to be able to make proposals that are agents of change for some specific purpose.
As we know in Mexico the architectural practice is very broad, compared to other countries, here we have to manage, design, build and supervise, even do marketing. One thing you realize is the lack of business education in college, which today is more than fundamental.
Gabriel
And that brings me to the next question. What was the idea that made you open a firm in Mexico? What is the difference that GPX offers? What was the intention behind your discourse as an office?
Alejandro
GPX offers a wide spectrum of solutions and proposals to diverse projects, what could characterize us is the trust and full use of technologies applied to the specific solutions of a particular environment, from project planning / conceptualization all the way to execution and monitoring in their life cycle. We do data analysis, simulations of climate/ecological interaction, processes of optimization of material and intellectual resources as well as the expression of an architectural language that responds to time and space with a vision of the future. All this with a focus on the state of the art. The discourse of our practice is a synergy between technology, state of art and ecological responsibility. And above all, the result should be a specific solution for the benefit of society. Thus creating new realities that challenge what is already preconceived.
Anhuar
As a company, our basic principles are: Innovation, Responsibility and Professional Ethics, trying to make the whole process transparent along with our customers, to achieve a healthy and successful practice. We are interested in our projects running on time, form and budget.
Gabriel
And as for design ideals, this is a particularly important thing. I like that you have described your practice as a social and cultural commitment, which often never happens. Architects generally don't define their practice that way. But going back to the subject, what would those design ideals be?
Alejandro
Perhaps from a theoretical point of view something that really moves us is the philosophical position of Object-Oriented Ontology (OOO), the fact that we speculate with reality and constantly experiment, to potentialize the qualities of the known environment to create new relationships with the project with which we would impact it.
Let's just say we're very excited to bet on society's imagination through architecture. We have stopped building or designing architectural elements based on theories of modernism, we seek to challenge the known reality, we always question how the project relates in terms of its environment, and the new relationships that have been created. We try to make each project unique, with very particular qualities, proclaiming itself as an autonomous body but at the same time coexisting in harmony with its context, thus expressing its own architectural language. Respect for the past, knowledge of the present and speculation towards the future.
Gabriel
Speaking of which, I am also a great sympathizer of speculative realism and object-oriented ontology, and I have had the opportunity to meet the creators of this entire movement. A few years ago I tried to organize a conference in Mexico on Speculative Realism and OOO (Object Oriented Ontology) with an important University. The people who taught theory have not heard about it and when explaining my intention, as well as what this philosophical position is about, the answer was no, the explanation was that in Mexico that could not be applied, and it was not part of their "reality." Sounds ironic right? What I'm getting at is: How do you think you can start implementing the speculative project in Mexico? perhaps through a practice like yours, doing projects under this discourse, but without discussing them as such, that is, by maintaining speculative approaches without making them explicit. Do you think it is through academia, through workshops, conferences, seminars? What is your opinion on this regard?
Anhuar
Yes, we believe that through academia we can take the first steps to be able to tackle this issue from its roots, if we treat the classroom as an experimentation lab, this is precisely the potential space for speculation and experimentation. Because at the end of the day it is through these experiences at the university level, that new generations of architects will be able to influence their practice in the future.
Alejandro
We think it is still a bit complicated. Whenever we have tried to put the topic on the table, both in the academy, or with colleagues, we find a lot of resistance, there is a tremendous attachment to the functionalist trend, as well as fear of speculation and experimentation. As far as the discipline, it is within the academic environment where we would expect to find the space for speculation, unfortunately this does not really happen. The problem is quite clear, there is no dialogue, that is, there is no time to listen or desire to understand, to take risks.
So, like Anhuar said, the best way to express these ideas, these thoughts, these new philosophies are perhaps through more experimental projects and explain how you can ignite these new realities. To explain these new concepts graphically, in a tangible/feasible way, with a good research base that proves that these proposals can be carried out. Unfortunately, these days, there is not so much room for dialogue within the academy. That is something we hope it could start soon. However, it has worked better for us with clients, especially those who have a scientific orientation, as they are involved in experimentation and research with us.
Gabriel
Going back to speculative realism, it would be important to discuss one of the most important approaches of this philosophical position, the problem of global warming; incorporate new spaces, especially removing the hegemony of humans to stop being at the center of everything and begin to consider all other non-human objects found in nature, opening the cultural (human) framework to nature, otherwise the problem of global warming and ecological exhaustion will continue to increase. The dialectic that unfortunately still exists between nature and culture, from which we are already paying the consequences of this way of thinking.
Alejandro
It is important to be able to communicate this to society in general, not just architects, to make them understand that we as humans are guests of this space and do not own the territories where we develop in everyday life. To understand the city as a living system, a hybrid between the artificial and the natural. We believe that a fundamental part of architecture is its coexistence with the natural environment, and those new relationships and objects created from this coexistence, the question is, what is the advantage that can happen with those new relationships, such as creating more communities, and gaining something that contributes to the city and not as just something that affects it. We see this concept from a socially and ecologically responsible perspective.
Gabriel
People in general don't understand how serious this situation is. There is no care for the environment, as you said. We not only feel like the kings and queen of our spaces, but also that we are really dominating the objects around us. It is even curious to think that architecture as an autonomous object can be with or without humans. I am concerned about these issues; they are profoundly serious but above all the role that the architect must develop to deal with this problem.
These issues must be addressed starting from the school of architecture, the students should become aware of the problems of humanity, such as the problem of climate change and many others, this shift from the epistemological to the ontological is exactly what is looking for. You guys that have been away for a while, how do you see the situation? It is a very important issue because it has to do with a radical change in the way we think about the problem of reality.
Alejandro
Above all, because architects, even if they do not want to be an example, they are the main players in the creation of the city, of living spaces and they should be catalysts for the change. The important thing is to understand how to translate all those ideals that may come from other trends, other disciplines, but at the end of the day, as architects, we can help forge that reality.
Gabriel
I find it curious that Graham Harman, Levi Bryan, Tim Morton, all who are the representatives of these ideas, they also have a close relationship with architects. In fact, they teach in architecture schools. It was architects like David Ruy who started talking about how to take those ideas and start using them within the field of architecture, and design. That relationship that exists between these philosophers and the architects is critical, I think there is something very interesting there.
Alejandro
In fact, we had the opportunity to be influenced by this philosophical current during our master's degree at Sci-arc. It was a shock to be able to understand how to relate these ideas to architecture as an agent of change. Something interesting is when it relates to social, cultural, and political issues, I started to feel bad to face how I thought before all this. Of course, we have never seen things like this before. Now we want to understand how to put it into practice, day by day, and in every project. Addressing projects from different perspectives so that we can bring our discourse to the public.
Gabriel
Another great myth is that people believe that OOO (Object Oriented Ontology) has a specific answer for everything. This is not true. There are many even aesthetic interpretations. But it is important to emphasize that it does not have a stylistic approach. We cannot continue to see this problem from the hegemony of the human and instead begin to see things from another point of view. What Levi Bryant calls the "Democracy of Objects" by expanding the framework of cultural reality by incorporating all human and non-human objects.
For me, it is important to start creating controversies through spaces like AGENCIA. I would like that one of our objectives to be precisely this, to question our current conditions and start talking to other spaces in Mexico, with other audiences, not just audiences that already support these issues. Sorry, I deviated a little, let's get back to our subject. When you return to Mexico with all these ideologies, what was the most shocking thing about this cultural clash for you? If we can call it that.
Anhuar
It can range from the digital methodologies that are not common here, practically everything is done in AutoCAD, even certain construction processes. Also, the fact that digital fabrication is largely unknown, perhaps it is out of fear of the "unconventional" of "bold" forms. They prefer a design with the typical "box", given the fact that another alternative will be considered difficult to build or very expensive.
Alejandro
These are prejudices, it is all a denial, all defensively. Always looking for the bad side, that is a complicated part of the Mexican mentality. Everything is impossible, it is not feasible, it is very expensive, you can not build it, or the favorite, leave it to develop countries, in Mexico that is not feasible. I would say that the cultural shock for me was the denial of innovation and the means of reinventing itself.
Anhuar
All the time we have to show that even though we are young, we know what we do, we can do it, we already did, and it can be done. That they can trust you. It's a very complicated issue for us.
Gabriel
Interesting because the reality is that students today have much greater ease for technology, besides that they are looking to be taken into account and to have a horizontal dialogue with their teachers. First as a student and then as a young professional, you always must deal with the stigma that you lack experience, and you need to show them that you can do it. It is sad that it hasn't changed, the same thing happened to me.
Anhuar
This is what pushes the majority who leave the country to stay and not return to Mexico, as this happens in many cases. The experience we had in Los Angeles has worked for the best and although it has been difficult, we are on our way. There are, as always, these clashes between the nationalist position and the globalization issue, the fact that you trained abroad does not mean that you are disconnected from the reality and needs of your country.
Gabriel
Of course, besides, you have to be very careful how to communicate with your audience, with your clients.
Alejandro
Unfortunately, you must modify your vocabulary and your discourse. You have to investigate well where and with whom you're going to talk, because, as you say, it depends on the forum. But in Mexico because you're young, and because you've had the opportunity to study outside, you don't have the authorization of society to have an opinion (because you left the country, or you're disconnected from reality). It's been very complicated, but at the same time we really enjoyed it. Because when they start telling you don't do this, or you can't, instead of feeling bad, we are motivated to try harder.
Gabriel
Looking back when I was about 28 to 36 years old, it was a very good moment to be an architect, because on the one hand you are young and you are excused for your mistakes, but at the same time you already have experience, and you can propose things and get away with it. That dynamic between maturity and youth if you know how to take advantage of it, is fantastic! It is a very interesting stage because you really find a way to get started. I have to say, I enjoyed that game between the young architect and the adult. I would like to change the subject and ask your opinion about technology. The problem of the integration of technology within the academy and in practice, which is extremely important, let's say, that transition of the architect into the future. What do you think of this? How are you facing all this?
Anhuar
I believe that more than anything, the problem is the university curriculums, how the administration of the different institutions has already programmed the courses many years ago. I believe that students have a great disposition of learning new technologies. For example, I teach in the third semester, students barely arrive knowing AutoCAD and now with all this pandemic it is more complicated. I had no excuse but to teach them different things that they had no idea about, but they were willing and engaged, this developed their capacity, the spark that everyone has. I think it's more than anything the top-down approach, that is, it has to come directly from the curriculum.
Alejandro
In the public sector, something very interesting happens. For example, the topic of BIM, the conversation that we are trying to carry out the use of BIM methodologies to make projects and construction process more transparent. To be able to take this to a national strategy where public tenders could be made through smart models, where they are fully auditable and transparent for the benefit of users and the population. Thinking about a future of how buildings could be developed, how they could be maintained, how to optimize resources and so on. There is strong opposition from the authorities or the political system. In Mexico in 2017 there were certain presidential decrees, and they had some support from the Chamber of the Construction Industry, the proposal is that by 2022 both in projects and construction this methodology should be adopted. These methodologies could greatly help the construction industry and to the architect proper when using these workflows and not to make extravagant designs but issues regarding better use of public resources, material resources and intellectual resources.
But we always go back to the same thing, there is this denial and distrust for being young and having solutions based on the technology of our time. If we look at the construction industry because there is also no large-scale implementation of technology, the resistance to digital fabrication is very strong, and there are important issues for this. It is not because there are no tools in the country, or because there is no technical capacity, but because there is no movement that drives it. In other words, there is no professional or political force that drives these technologies within the objectives of private and public institutions. We are very interested in working in the public sector to promote the use of different technologies and also in the academy to try to communicate these ideas to new generations. The work being done should be on sight and to be able to communicate it through these forums as your magazine to generate conversations.
Gabriel
I totally agree. Do you think that, with the new government, this decree will be respected by 2022?
Anhuar
We don't know. We'll see.
Alejandro
But as you said at the beginning of the conversation, when we talk about participation, of putting together collaborations, of understanding collective thinking, because there is a lack of participation of the population itself, of specialists, or of scientists to contribute ideas and assemble collective groups.
Gabriel
The architect's agency which I insist is extremely important. Let's just say maybe this is at the heart of it. Generate conversations to talk about where that agency is? What would be the first steps to take to start these dialogues?
Anhuar
Perhaps the easiest thing is to demonstrate it through your work, explaining from that perspective how you address that problem about the architect's agency.
Alejandro
One thing we've lacked is being more present on social media and public forums. To raise our voice, make ourselves known, discuss these topics, create these dialogues, participate in these forums. But it is perhaps easier to be present through our projects and to be able to extend these intentions and this ideology to others. But I think the first steps are to have more social participation.
Gabriel
What steps could we take to start generating these changes, these first steps? I'd like to focus once more on the agency through technology. Some of these technologies are no longer new, they have been in use for a decade or two. Obviously, I'm starting from the point of view that we're already in the second digital turn, as Mario Carpo points out. Modeling, rendering, 3D printing, digitally fabrication, are already our daily bread, have no element of surprise are ubiquitous. But given the situation like the one in Mexico and other countries, these technologies are still seen as out of the realm. How do you see the dissemination and incorporation of technologies into your own practice?
Anhuar
It makes a lot of sense for us to try to implement this in our practice. Part of it is to show that it can be achieved with a great benefit and a direct impact on society. An example of this is the pavilion we did where we implemented this kind of stuff, including digital fabrication.
Alejandro
The problem is that there is no such conversation, this question hasn't even reached most radars. there is not even a fear for automation, or the understanding that the myth about job loss, the disappearance of the architecture profession as well as the decision-making all these issues can be solved, the irony is that here in Mexico I have not yet heard those conversations, however if we see it completely possible towards the immediate future.
Gabriel
The issue of technology is to show that we can achieve a change of mind, from the perspective of AGENCIA, this change is fundamental.
Alejandro
That is right, during these years, for us it was our takeoff moment to capture these ideas, it all started in Mexico City with the interactive pavilion at the Museum of Science and Technology. Part of the discourse was implementing science and technology in synergy, the pavilion is offering this from its theoretical conception, design, and its construction using digital mediums.
We saw in this project a great opportunity to express all those ideals we mentioned earlier in the conversation. What happens inside, space, program and museography are a reference to the museum of science and technology, for example, the structure, which can look somewhat complicated, it was important to understand how you explain to engineers and builders our ideas based on dialogue, in the end were able to lift the structure without problems. To be able to verify that it can be built without traditional plans using digital mediums (digital model) and with minimum tolerances and fall within the budget. All the pieces fitted perfectly. This speaks to the role that technology plays in our times, we have to rely on the great benefits it brings and use it creatively.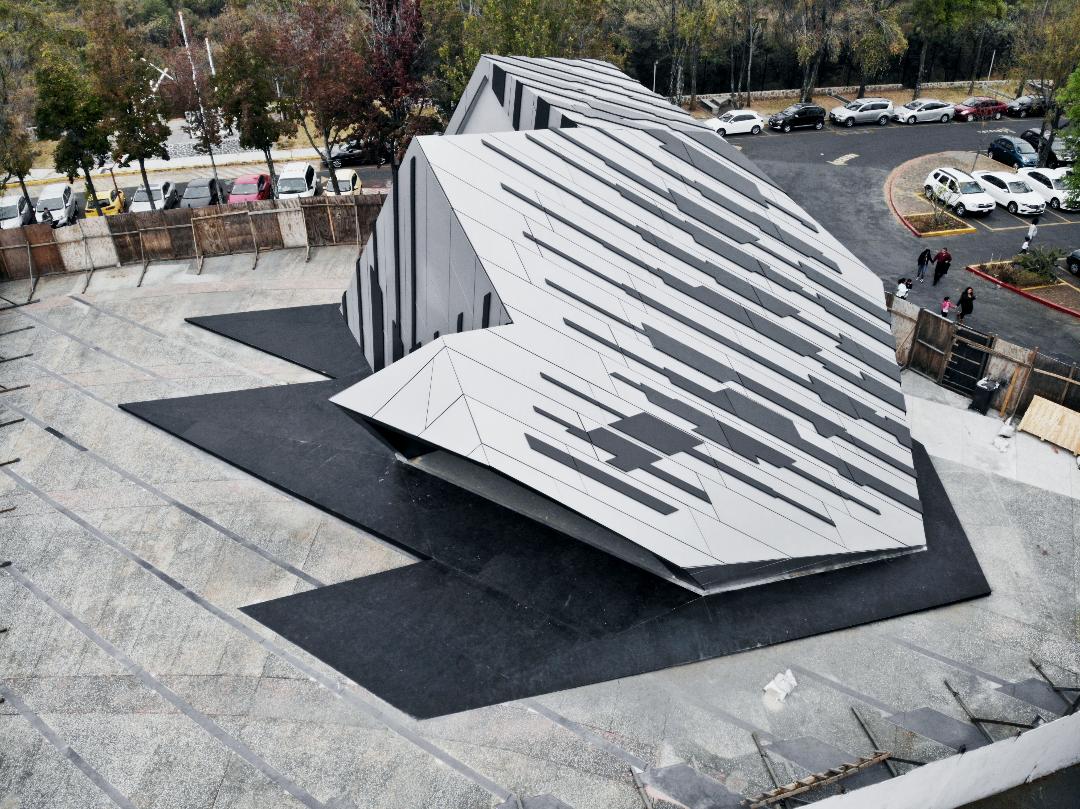 Gabriel
The project is magnificent, I love how you solved the ground condition. The ground as an object with the object/building resting directly on it.
Alejandro
The argument is very specific "how it relates to the ground." How it works independently but at the same time being part of the public space, it shows that character of autonomy and its own identity, creating new relationships and uses of the public space around it.
Gabriel
I have another question about. Was the use of a low-poly object intentional? Was the number of faces part of the negotiation with the structure?
Anhuar
Not really, when we were working on the structure, this was not an issue, rather to rationalize the number of faces as a design problem. However, there were no design changes due to the structure.
Alejandro
The topic was about how to avoid double curvatures. We wanted each moment, each view of the building, to look like a different object, with a different and powerful silhouette according to the viewer's position, altering the sense of scale relative to the viewer, all this was important and intentional.
Gabriel
I am very excited to see this project because what you just described; this really happens. The fact that in Mexico there are opportunities like this for young architects to build such projects, this in the United States and in Europe will be quite difficult. This is interesting, because at the same time we have this problem about resistance for the new, but the opportunity also exists. I really liked it, it's the kind of project that you could get a lot of juice out of it, publish it, upload them to social networks because if it's very interesting.
Alejandro
That is true, we see it as a manifesto, but also as a critique of the established situation. When we arrived at the museum and saw the tremendous deterioration, the lack of use of public space and the understanding how important it is because it has about one million visitors per year. This Museum of Science did not have an architectural language, we realized that there was an opportunity, theoretical potential, not only to represent this theme of technology, but to bring innovative ideas, and above all there was a way of doing things differently. For us it is an opportunity to say that being young does not make it impossible for us to build well and in time and applying all these current ideas. This was possible as Anhuar said it because we graphically developed a way to convince the decisions makers, we use all the resources that can be imagined both graphically and digitally to demonstrate what could be done and at the end of the day it was achieved.
Anhuar
We managed to get them to trust us and they bet on us too. We want it to be a flexible space, that everything was ready so that the museum would finally adapt it according to their needs and its museography.
Gabriel
It's wonderful! I can really say that I am speechless, congratulations!
Anhuar
Thank you. The point is that if things can be done in Mexico despite certain prejudices. This is important to create the dialogue in which new generations, as well as children from their perspective feel that the project is special. I want them to think when I get older, I want to be an architect.
Gabriel
Here we can see just as we mentioned earlier, the language of our present century It would be important to start thinking about these kinds of technologies not as proposals for what it could be, but as something we are already experiencing, which makes us aware. It's like a clash with reality. Which makes us see how far behind we are. However, this can already be done and we must trust the future.
Alejandro
Exactly, this is not only possible in developed countries, it is also possible in our country.
Anhuar
Plus, it was done using Mexican labor. The process of exchanging ideas with the Mexican qualified workforce and the digital manufacturing approach was super interesting, as we managed to "tropicalize"** those processes, and the result was very fluid and enriching. ** Expression used in Mexico to say that something was adapted to the national cultural context
Gabriel
That is, a combination of "lo-fi" and "hi-fi" in fabrication. I think this is an example of group contribution. It is one of the issues that need to be addressed, to be able to add high and low resolution. Maybe the design of the project itself is done with high digital resolution but the implementation is done using existing labor and analog techniques. The result is wonderful. After you finish this project, what is next for you?
Alejandro
For example, about the Academy, we have a lot of interest in public and private universities, to participate in areas of research, creating laboratories and making alliances in which students could practice, either with us or with other instructors, and start experimenting using all the tools that are available. Create publications, forums, and workshops. Not just as a conversation but bringing it to reality. This is going to help us a lot as a kind of "cover letter" in the sense that it expresses the feasibility of the application of digital technology that goes beyond living in the virtual or speculative world, but it is already something tangible.
Anhuar
In terms of our practice will be to continue implementing all these methodologies and workflows in other projects that we are designing for the public and private sector. We are participating in a larger-scale project and not only in the architecture portion, but the engineering and all the disciplines involved in this project. We are facilitating that other disciplines also get on the same boat of relying on the digital age, from conceptualizations, analysis, simulations, building and monitoring. Applying not only on our larger projects, but we are also doing it on smaller projects like offices and remodeling jobs.
Alejandro
Even in smaller scale industrial design projects like tables or chairs, we have implemented these methodologies.
Anhuar
Even in historical building projects we are implementing it. The mission for these projects is to be able to adapt this system even on the restoration practices. Each project is different, but the workflows that we used are based on a core that we adapt.
Gabriel
We need to create more forums where these projects can be presented, as well as a forum on theory. That would be great! Using our contacts, we can create something interesting.
Anhuar
I'd be happy to.
Gabriel
Another question before we finish. How do you get your projects? How do you search for them, your marketing? What are the dynamics?
Anhuar
Literally we have been knocking on doors and looking for competitions.
Alejandro
A thousand doors, not one or two, it has been based on inventing projects or looking at potential spaces or contacting the friend we know wants to do something. Gabriel, you have no idea what we do for these conceptual projects without being asked. Trying to get a presentation is like selling products, door to door, literally.
Anhuar
This has worked very well for us, but it means a lot of work, is always trying to propose more than we are asked. Proposing a wide range of possibilities to be able to negotiate better and perhaps increase the scope of the project. It is to present a comprehensive plan, from the architectural, the engineering, to the financial, and this achieving it by proposing more in terms of representation formats, both in video and simulations. The idea is to give the client a comprehensive idea of all the potential that their project could develop. It is always like a coin toss; you could win or not.
Gabriel
It's a good tactic. I know of other friends who have used similar strategies and have gotten good projects of a good scale.
Anhuar
It is a matter of selling what we know how to do, what we learned abroad like technologies, new ways to build, this whole topic we are talking about. We know how to implement it in Mexico, it is a good opportunity. We cannot act as selfish architects; we think that we must always collaborate with different people. We do not own any truth and the key is in collaboration.
Gabriel
You belong to the "open-source" generation and the idea of sharing what you have created. Previously you protected things, knowledge, and sharing was not part it. Now we realize that was stupid. What interests me most is preparing new generations with those technologies within the academia. It is something that we must understand, cultivate, share, and develop day by day. Architects are part of the digital world, period, even as much as we try to deny it.
Anhuar
There is nothing to hide because everything is there, it is transparent. Whether you like it or not, as a teacher, as a person, as a professional everything is already online, everyone can download it. It is better to share what you have learned. Everyone brings their different sense of creativity, when people share more of their experiences in terms of digital technology, using comments, workshops, or tutorials. People will have more tools so that they can further promote architecture in Mexico. For us this is a fundamental job.
Gabriel
I totally agree with you. A final question if I may, how do you see the future of architecture in the short, medium or long term? Should we be afraid of what might happen?
Anhuar
I am a little more optimistic than Alex, but I must say that the things that could limit us in Mexico would clearly be the cultural, political and economic aspect. If the doors start to close, if the economy starts to fail, these things seemingly external to design or architecture impact us directly as architects. That's perhaps our biggest fear.
Alejandro
For example, for me personally, what worries me most is climate change. Why not think about the immediate future? We know that systems are collapsing, and these systems are not directly dependent on us. We can already see irreversible damage. I am a little more negative, but I feel that also the system in general, to call it that, is collapsing and we are realizing that the world can no longer function like this. Not to mention Mexico, it is usually chaos.
The role of the architect should not be pessimistic, because of these problems we see a lot of opportunity in the sense of proposing and promoting in some way agents of change, with innovative projects, creating these forums such as your magazine, talks and so on to promote change. See the positive aspect within participation, because we have so much to do. Today we are worried about the day by day, this is important but with a vision for the future. We have projects under construction, projects that have already started construction, possible projects that could come in a short and medium term, and in all of them we are trying to contribute with something. It is good to participate and talk about our ideals and how we want to contribute to improve the world with what we do. On that aspect we see an interesting opportunity with the group you are putting together and with all the people you have spoken to, who have collaborated, to assemble a much larger group, a strong group, that makes our voices weigh more, that have more value, agency. And this expansion or dissemination may be an element of change. That is what we consider important right now, problems are always going to be there and in the end the day what the architect does every day is solve problems.
Gabriel
That's our mission within the magazine, that would be ideal a world of participation and cooperation. However, little is said about the apathy that exists at all levels, few people care about creating and participating on these forums. We complain but, in the end, we settle for the status quo. I think this is a very dangerous thing. We must leave that apathy and participate even if it sounds cliché with our grain of salt to bring about change. Not everything is lost, there is much to do and as you say there are many opportunities. Now with the pandemic it is clear how several of the political, economic and social problems have been triggered and solutions are required at all levels It is within our own discipline to talk about these changes and reality, this problem somehow reaffirms to us the importance that we have within society and the importance of recovering that agency that we always had. This is our opportunity to redefine everything, our cultural, social, and technological participation. Confirm our position as a discipline of the 21st century. Well, I congratulate you on your successes and wish you many more. Is there anything you'd like to add on the topics we've touched on culture, architecture, technology?
Alejandro
There are also things we did not talk about. I think it would be nice to have another conversation.
Gabriel
Of course! You have the invitation for the next conversation when you finish one of your most interesting projects. I am really impressed with the project you have shown me, it is sensational and I am very pleased that young people, thriving people do these projects and who know how to overcome all kinds of obstacles and do things right.
Anhuar
Thank you very much for this conversation.
Alejandro
Thank you.