An Architect That Does Not Look Like One.
Architecture is the wise, proper, and magnificent play of volumes under the light
Le Corbusier ,1920
Our development in society usually begins with our parents' expectations of religion, school, friends and even our professional careers; that is, about who are we going to be: what are you going to do when you are get older? when do you get married? when will you have a child? when will you have another child? And so, life goes on reaching goals that often do not belong to us.
I have been an architect since 2005, but I think I have been one since I was 12 when I told my dad that I already knew what I wanted to be when I grow up.
In my years as a student, there was no program in Culture Management, so plastic arts was the closest thing to art and culture in the city. At the same time, architecture at the ITESO was promising, their program at that time contemplated subjects such as Architecture Theory, Contemporary Art, Architecture History and Art History, a window of opportunity for me.
I always knew I would not build houses or create 3D views of projects. My search started in the second semester; I knew I was going to do architecture, but not the one I was learning in the classroom. My professional career has been based, since then, on transforming spaces into ephemeral events (mainly related to art and culture) and afterwards they will return to the function for which they were originally conceived. I like to create experiences that make a change in our lives.
As a student I worked in some offices making models, designing sets for fairs and, a year before graduating a classmate and I organized the first Animation Festival of Guadalajara: an agenda where people had access for one afternoon to different 3D programs. This project aroused an interest: I had enjoyed transforming a space into something else, for a few hours, to offer a different experience, a new reading of the same space through the content offered.
Since then, I have directed several art galleries, coordinated a private collection of contemporary art, I have done more than 20 museographic projects, seven curatorial projects, five festivals and seven auctions in Guadalajara, Mexico City, Oaxaca, and the United States.
It is worth mentioning that each project led me to another, and little by little I have been falling in love with each one of them: I always start with the hope of promoting not only the project itself, but also the artists who collaborate in it, the brands that sponsors them, as well as the collectors who faithfully follow us and support the proposals we show.
By the time we held an auction in Oaxaca in 2019 (sixth edition), we managed to donate the proceeds to the artisan Remigio Mestas to finish a silkworm farming project at the Isthmus of Tehuantepec, that benefited more than 20 families dedicated to the pedal and waist looms, I thought: "I feel more an architect than ever". Supporting the heritage preservation, starting with people, this has been an important reason in my professional work. Feeling that from an event (whether it is called a party, auction, special sale, or exhibition), I can make the attendees aware of who we are and come out of the event with a sense of belonging, that is what I call a successful project.
I have realized that there is no identity without knowledge, and I have focused every time on bringing this knowledge as a reminder of where we come from, why it is important to see what artists are doing, why art can no longer be interpreted with what is perceived at first sight, why it requires us to be informed, why popular art is changing from the materiality perspective, why global warming is affecting our crafts and our gastronomy.
The road has not been easy, especially because it did not take long for the labels to appear since the beginning of my professional work: manager, curator, anything but an architect. On one occasion a teacher told me that I was no longer an architect because I was not doing what architects do: I did not make plans, I did not do "architecture" projects, I did not ask for building permits... In those days, I was directing the Art Laboratory "Jorge Martínez", a space at the School of Plastic Arts at the University of Guadalajara focused on creative experimentation of both space and artistic work. The comment bothered me, I told him I disagree. Years later I ran a museum; and I gave back his comment.
When we did "Undocumented" in 2017, we never imagined that Donald Trump would win the U.S. election. By the time we did the two-day festival in Miami, all the Latinos and Mexicans came to see it at the Royal Palm Hotel in South Beach. What this group of "tapatíos" (a Guadalajara native) was talking about was the useless need to have immigration documents to talk about art. We had a full house, more than 50 artists and designers were part of it, our agenda included two art exhibitions and a designer market. We brought our favorite restaurant in Guadalajara to cook lunch, bringing Mexicans and Latin Americans together in the same space. We achieved the combination that the sponsoring brands were looking for: a fresh and relaxed exercise that allowed all voices to count, away from snobbery and pose.
In this project, "Undocumented" achieved for the first-time during Art Basel week that young collectors were encouraged to invest in the talent of Mexican and Latino artists.
Once again, we did "Undocumented" for two consecutive years in our city. In the last edition, we took over a city block at the core in the Colonia Americana. Architectural Digest, Flaunt and Vogue USA spoke of Guadalajara as a hotbed of talent.
At the same time, I looked at art residencies as a way in which artists could exchange knowledge with vulnerable communities, as is the case of Maraika and as students of the masters of Tonalteca folk art at "Los Aprendice"s. These types of projects began to unite all my previous efforts, bringing them to communities, to new audiences, and tangibly demonstrating that art can change people's lives. The results were beautiful, the collaborations between folk art and contemporary art, showed was that we all came from the same place, the earth. All the participants were happy with the experience, I felt fully satisfied.
Thanks to the project of "Los Aprendices", ICOMOS Jalisco paid attention to the extinction of the mud mines in Tonalá, so we began to make statements in specific areas to protect the raw material of our popular art.
In 2019 I finally joined all my projects and collaborations in one company. My search was over, I was living my dream. OFICIOS, offering services for artistic production. From here I was going to outline each and every one of the projects from my architectural work. If architecture is the game of volumes under the light, my game was just getting started.
With the pandemic, activities stopped at almost 90%. We do not see when we will do an auction or a festival again. However, just at the end of last year I received the greatest challenge I have faced in my life: the direction of the Decentralized Public Agency of Museums, Exhibitions and Galleries of Jalisco (MEG) contacted me. I always wanted to run a museum and now I have 14 under me.
I started this job with butterflies in my stomach. I had never been a public servant and the responsibility was (is) great. The first few months I did not sleep well. It has been a long time since I learned so much, from such different things: the staff, the maintenance and building operation, the programming of spaces, the sanitary protocols due to COVID.
I remember my first day in the office, at the beautiful Ex-Convento del Carmen. Everyone called me "architect". I know that for my employees it was natural to call me because of my college degree, they did not know that at that moment I finally felt legitimized. "Arquitecta Miriam", the one who does curation projects, the one who protects the tangible and intangible heritage, the one who collects "huipiles" (typical shawls), the one who loves to eat, the one who enjoys reading in silence, the one who now draws plans to explain a project, the one who seeks to position these 14 museums as a national reference.
Maybe my projects are not about constructing buildings, but they build community, they build foundations of identity, they tear down walls and borders. If architecture is about building, there are many ways to do it.
I am the Miriam who is Miriam, the one who does not seek to look like anyone or anything, the one who is living her dream, the dream of not being labeled by the activities of her profession, but by the trades that she encompasses, those that the experience of our hands provides, what is not formal, what it always is: a search to be a better person in every simple gesture of life.
About the author: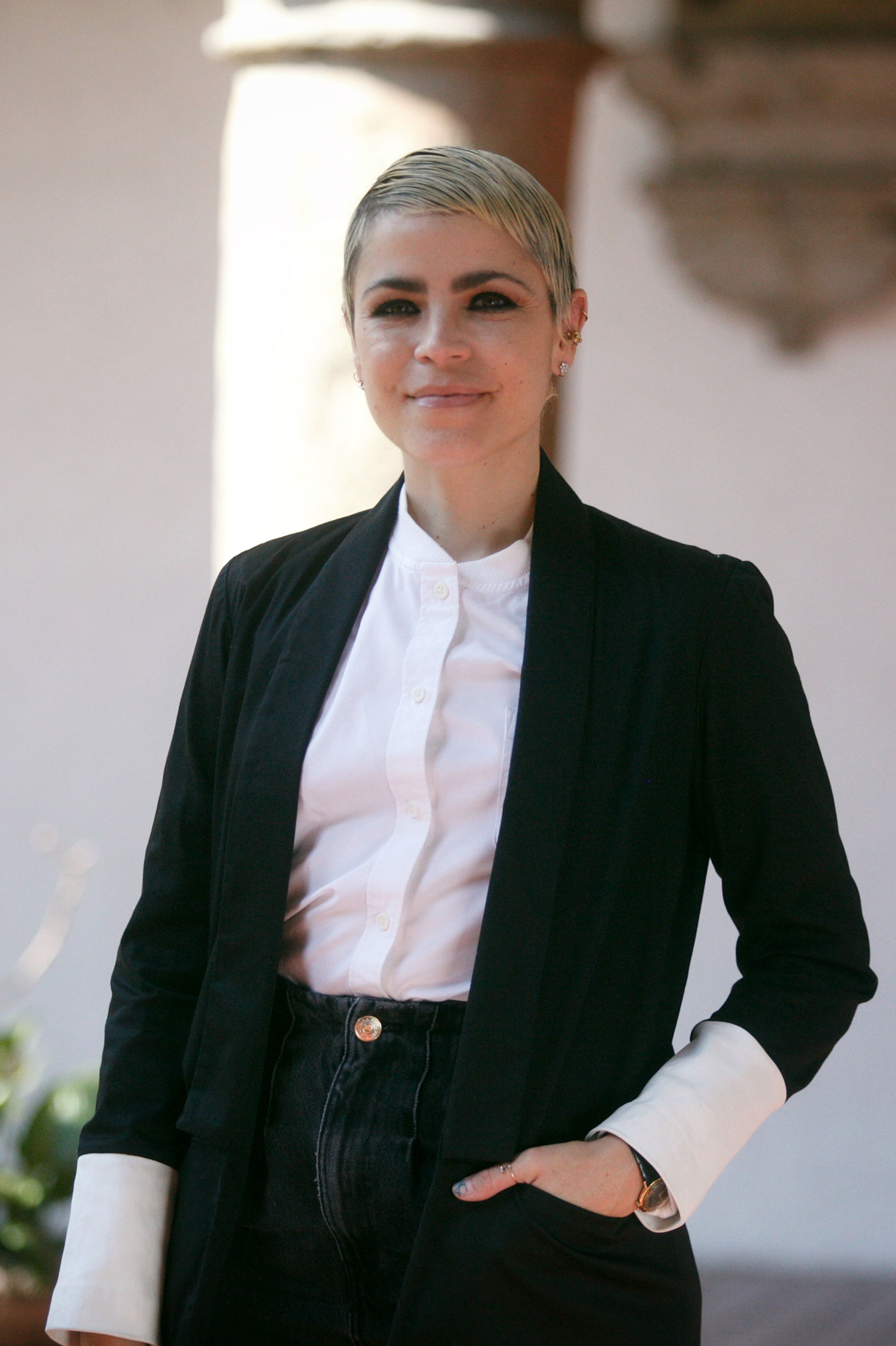 Miriam Villaseñor Muñoz | Guadalajara, Jalisco, 1982
Graduated as an architect from ITESO. She collaborated for 6 years in the Area of Studies and Projects at the University of Guadalajara Cultural Center, managing architectural competitions and the master plan. She worked at UNITERRA, Real Estate Division of the University of Guadalajara, developing strategic projects for the State of Jalisco. She was a founding member of the HUMO gallery, a gallery that supported young artists.
From 2009 to 2013 she co-directed with Viridiana Mayagoitia the "Jorge Martínez Art Laboratory" and at the same time she was the coordinator of the Center for Architectural and Urban Culture. Her relationship with architecture and her taste for art have led her to collaborate on projects such as Arte Careyes and the development of independent projects with different artists. From 2014 to 2020, she coordinated the Charpenel Collection and was a founding partner of Anonymous and Undocumented, projects focused on incubating cultural platforms using unconventional formats and alternative business models. The aim is to promote a lifestyle based on a revaluation of Mexico's cultural, artistic and architectural heritage. Anonymous had four editions in Miami (USA), one in Mexico City, one in Oaxaca and the most recent in Marfa, Texas.
Miriam has been in charge of Residencias Maraika since 2016, where artists are invited to work a month at the Casitas Maraika hotel, located in Las Animas, Puerto Vallarta. The mission is to develop artistic projects and knowledge exchange with children and young people in the community. She is currently part of Los Aprendices, residencies in which artists are invited to learn the techniques of Tonalteca clay in artisan workshops. This project has become a first attempt to protect the mud mines of the municipality of Tonalá with the support of ICOMOS, Jalisco. She is the founder of OFICIOS, an office where she gestate all these collaborations supporting mainly in the production, shipments, assembly and registration of pieces of art by national and international artists from Guadalajara.
Since 2020 she is director of the Decentralized Public Agency of Museums, Exhibitions and Galleries of Jalisco, she in charge of the management of 14 State museums.