Resilient Profession
Resilience: it is the ability to adapt to adverse situations through the development of skills, and then obtain positive results.
The current socio-economic situation of the twenty-first century has pushed us into endless challenges and adversities that we have had to face. As human beings we are rethinking the way we live, we are reforming it and looking for ways to cope with the chaos.
A great characteristic of our times is that human beings are more concerned with the knowledge they possess and how it can serve them to achieve their goals. Nowadays the training to develop a particular job is in their hands and available to anyone through the internet. If you want to specialize in a subject, master a language or just fix your computer, you can do it and learn how to in a short period of time. Let's say then that there are no longer any obstacles and when people say, "they are not ready," it is because they have not tried yet.
There is a lot of information, yes, too much I would say. But it's up to us to learn how to filter that information and find the one that works best for us.
"Workers are becoming experts in the development of skills that allow them to thrive in any company," according to the study What does talent think in Mexico? by Kelly Services.
In the face of a changing world of labor, architects must also acquire several skills to remain competitive. We must act in accordance with the adverse situation. And not only we must rethink the inhabitable spaces, but on a personal level we must identify if we are really being adaptable to change.
The Beginning of my Resilience
When I graduated from college, I did not have all the tools I needed to compete in the active world of labor. And unfortunately, this lack of knowledge that occurs in most of the universities in the country, leaves an endless number of professionals "not ready" to compete and face the labor difficulties, including me.
I founded my office together with my partner, Lizbeth, in January 2014, we started in a small room with two laptops. The truth was that we did not know how to start, this was not taught to us at school: undertake, resist, and adapt. We were developing our first commercial project, when the need arose to present the client with quality results, something that at the time was just starting in the field: Photorealistic Renders.
It was then that we decided to learn in a self-taught fashion, 3d modeling and rendering. Through blogs, websites, and online courses, we managed to systematize a photorealistic rendering method that would allow us to offer our clients a better result. Once we mastered the subject enough to share this knowledge, we taught a series of face-to-face courses over 4 years (2015 – 2018). This acquired knowledge, not only gave us the ability to offer a higher quality results, but it was also becoming a way to earn extra economic income for the office; which compensated somewhat for the lack of projects in certain months of the year.
The Constant Resilience
Living in a relatively small city, with a lack of projects month after month, we found ourselves in the need to rethink on several occasions our services as an architecture office. What began as a "maquila" a kind of roll-out project office began to take shape as a comprehensive design and architecture studio. Many factors were the cause of us to get involved in each project: from not finding the right workforce, to our philosophy of customer service or simply our curiosity about constant learning and preparation.
We developed woodshop type projects, in which we were physically involved manufacturing furniture (tables, chairs, shelves, etc.). There were times when we were ourselves painting the walls of a remodeled space, placed a tile, or did landscaping.
During the first years of the office, the concern arose to reach out to more distant horizons. At that time, we had not achieved that through architecture "per se", because designing and building a job in your first two years of practice is something that 80% of architects can not achieve. Architecture is always a slow analytical process, which depends on many factors, including economic; and that is why it will take time until you get your first remodeling job, your first won competition or your first published work.
We believed then that we could develop some sculptural or utilitarian piece that would take us less time to published in the media, and that would allow us to reach a different audience through dissemination platforms. After much searching, trials, and errors, we achieved a set of concrete accessories that was called WALLS: three utilitarian pieces for any office.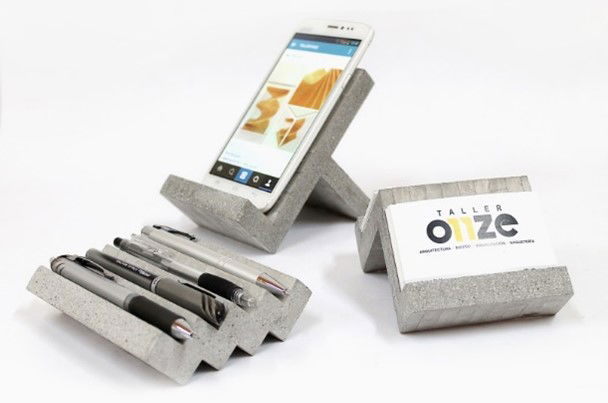 Once we accomplished the fabrication, we also had to achieve quality photographs that would work in social media and would satisfy the required curation typical for this format. In the same way, we improvised a "photographic set" with a paper backdrop and with the help of natural light, and a few online tutorials later, we were able to take photographs that worked for the portfolio. We manufactured more than 150 pieces that were sold nationally using online sales platforms. The photographs we took in our small office, served to knock on the door on one of the most important digital platforms in architecture: Archdaily and finally be published in 2015.
After this great little success, it did not mean so much the fact that we were published in a magazine, but rather this represented that the constant preparation, struggle, and effort, gave some positive results.
In the following years we got some good projects, bad projects, unfinished ones, poorly paid, not built, lost competitions, etc. And while there were critical moments when we wanted to resign, there were always more reasons to continue. The same disadvantage that always affect us: being located in a small town; we turned it into an advantage, because it is more likely to make noticeable changes in a small space, rather than in a larger one, it was only a matter of proportion.
Something that has characterized us over the years is our curiosity to learn, and above all this learning has been the result of our own economic and infrastructure deficiencies. But this does not mean that what we have learned to do, to manufacture with our hands or the effort we injected into each project we were involved with, from the first design stages to the project delivery, is of no less valuable.
"Overall, building resilience is a skill that will serve you well in an increasingly stressful world of work and companies will benefit from more resilient workers." Rich Fernández, specialist in this matter, in addition to Mindfulness, in a text for the Harvard Business Review.
However, the biggest challenge is to develop an emotional intelligence to remain calm in the face of pressure, to recover quickly from failure and see it as a learning opportunity, to trust your skills, to empathize with the environment and above all to listen.
_____________________________________________________________________________________________________
This short monograph, or as we call it "the telling of the damages," is nothing more than a simple attempt to inject into whoever is reading this a little hunger to move forward, to overcome the economic, social, or physical adversity that we may suffer. While any person or professional can be resilient, architects in particular, we are involved in so many issues and disciplines at the same time in a project; that the triumph itself will come from how we adapt to these confrontations. From being financial analysts, psychological and emotion analysts to the client; including what belongs to our discipline: design, landscaping, urbanism, construction systems, structural elements, lighting, branding, etc. And this list is not to for you to be worried, frightened or "back down", on the contrary, this should be directly proportional to the desire to acquire the knowledge that prepares us for any possible scenario. Clearly understanding that we will not master everything, or that at some point we will stop learning.
Gabriela Bautista Solis in collaboration with Lizbeth Amador Nuñez
Taller Onze Arquitectura
About the author.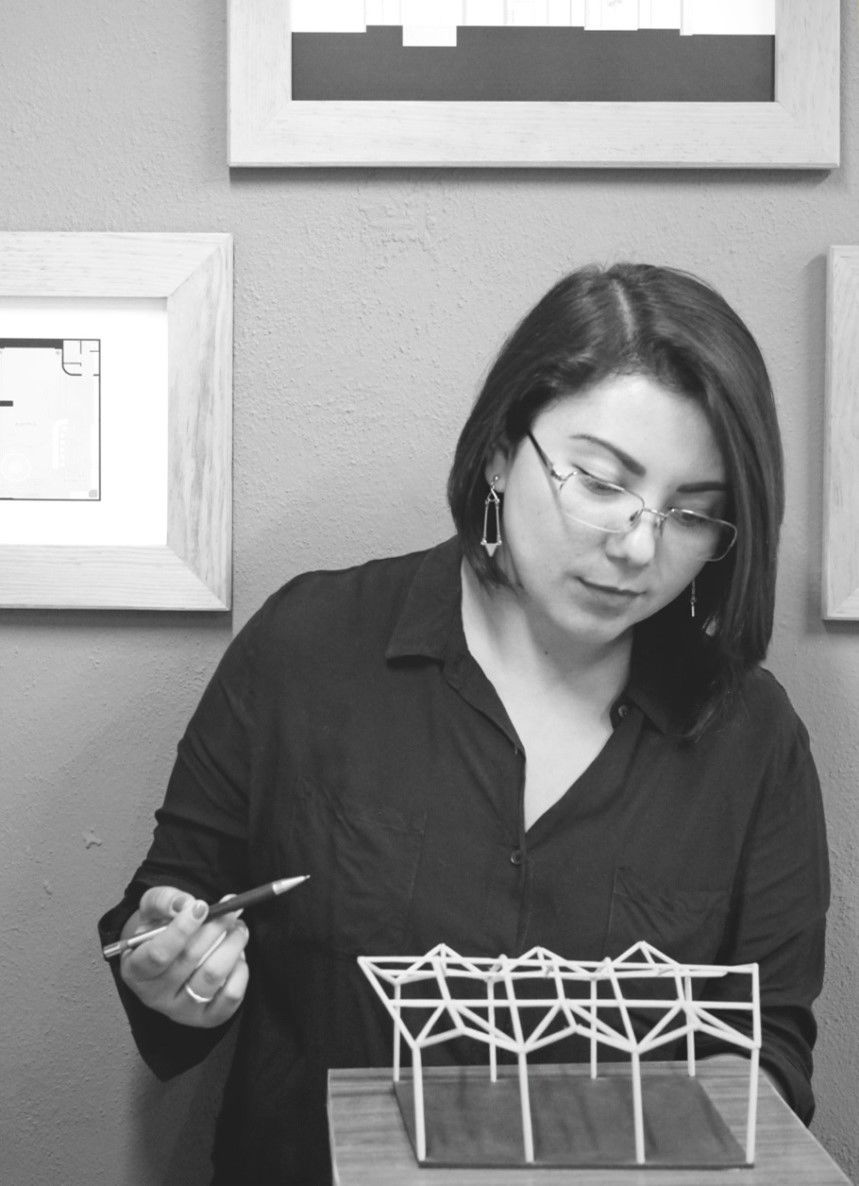 Gabriela Bautista Solis
Born in the Cd. de La Paz, B.C.S, graduated in Architecture from the Technological Institute of LaPaz, passionate about visual arts and industrial design. In 2014 she founded with her partner Lizbeth Amador Nuñez and began to run Taller Onze, a multidisciplinary architecture office dedicated to architectural and interior design projects at different scales. As well as the design or manufacture of furniture: domestic, commercial, and urban as well as unique pieces. Having the opportunity to develop housing and commercial projects in Baja California Sur. "With the help of traditional and digital tools, it is our goal at Taller Onze to conclude the idea of a project by exploiting creativity to the fullest regardless of its scale. "
For 4 years (2014 – 2018) she taught courses in Computer-generated 3D Visualization, aimed at students and professionals in La Paz, B.C.S. Recognized as AN ENADIIwoman in 2017. Some of her most relevant industrial pieces were published in the digital magazine ArchDaily: Muros and Rodela.
She currently works in the office designing, doing construction administration and overseeing on site construction as well. Gabriela is involved in each stage of the project delivery.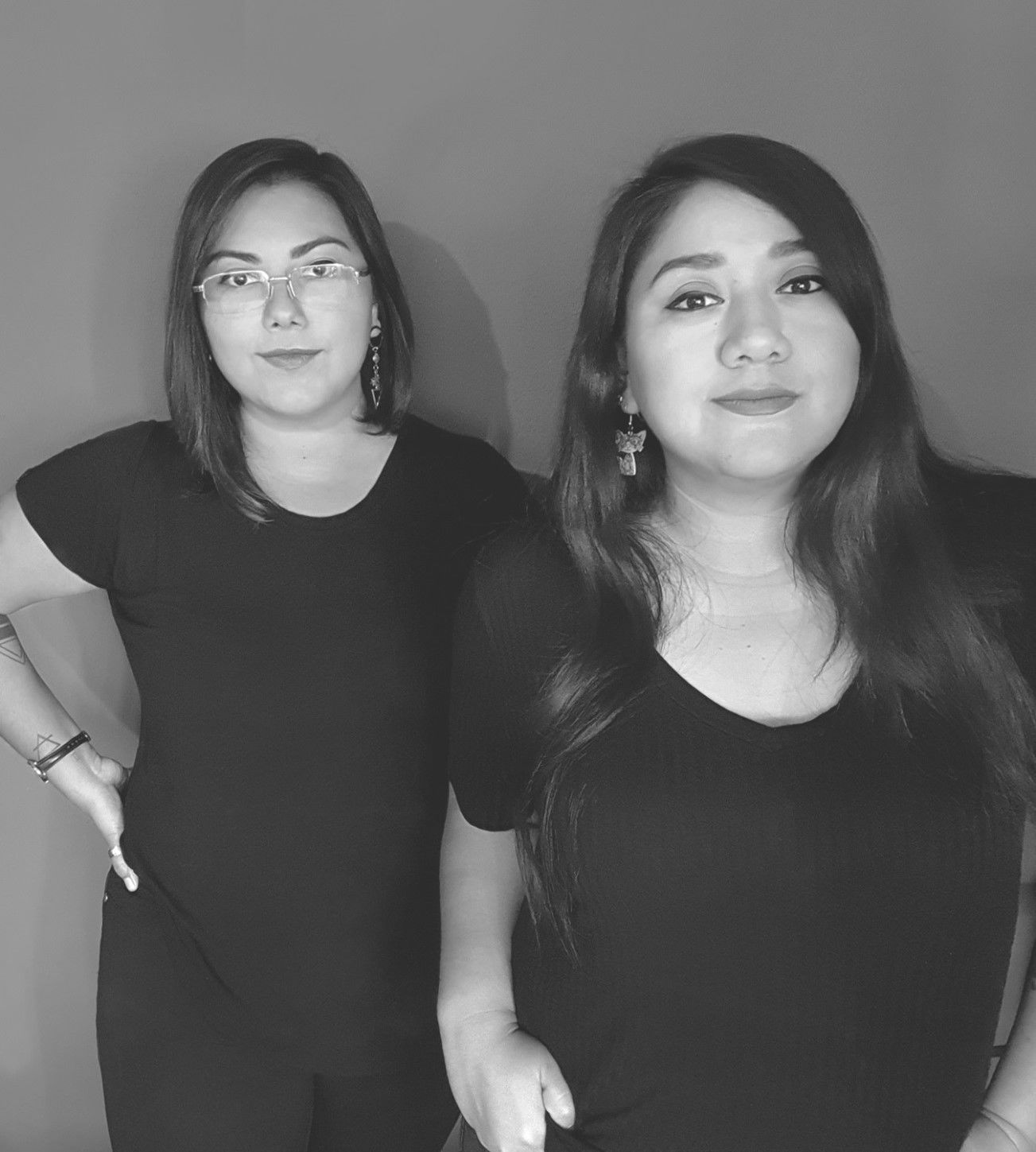 (Left) Gabriela Bautista Solis. (Right) Lizbeth Amador Nuñez.
Social networks: