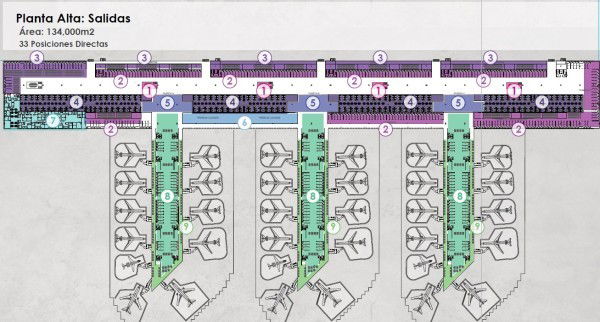 Santa Lucia New Airport Plan
A few weeks ago I wrote about the cancellation of the New Mexico City airport by Mexican President López Obrador (AMLO). In a "populist fashion" he created a "citizen consult" to determine whether to continue the new airport or not. It was clear from the very beginning that the new airport already under construction was going to be a "no go". It is very unclear who were the people invited to this false voting poll. But it was said that the citizens that voted were from "diverse" backgrounds. I can assure you there were no architects involved in this decision, as well as other type of serious technical consultants. As expected the results were to stop the construction of the new airport in Texcoco, and supposedly these results supported AMLO'S plan to expand the Santa Lucia Military Air Base, also located in that area. The consulting numbers are seriously comedic. This new plan obtained 69.95% of the votes of the 1,067,859 people who participated in the consultation. How were these votes tallied?
Once again my point, there was no serious formal protest from any group of architects demanding a revision or to create a national competition. So, who were those really against this Santa Lucia Airport?
Basically, businessmen, analysts and current sensible government officials questioned the proposal of the president. The main criticism is that canceling the Texcoco project would imply a high cost to the country's economy and can send a negative image to international markets. AMLO's administration is mainly concerned with "interior" problems that are related to his own personal infrastructure agenda as a classic populist, he has his base followers that support these decisions.
According to Forbes Magazine, Francisco González Pulido a Mexican architect who heads the Chicago-based FGP Atelier firm was selected to be in charge of developing this new project to convert the Santa Lucia military air base into a commercial airport. He is a graduate of Tec de Monterrey and Harvard University has collaborated with the construction of Bangkok airports, the expansions of those in Chicago and Munich, and the Los Diablos baseball stadium. This is the critical point; AMLO loves baseball, so I'm assuming he must have known about him through this association.
According to an investigation by Mexicans Against Corruption and Impunity (MCCI), the Secretary of National Defense (Sedena) directly invited González Pulido and the companies ADPI and NAT Blue to participate in the project. The military Sedena agency led by General Luis Cresencio Sandoval González confirmed that González Pulido was "collaborating" with the project, in addition to being invited without a tender (licitación, which is a common fair and legal way to compete for a commission in Mexico).
MCCI, the group against corruption, also sought out the Mexican architect who stated at the that he was not authorized to speak about the project in which he was "advising", but stated that his design for the air base in Santa Lucia would be "energetic, functional, an emblematic of Mexicans architecture identity, very technological and sustainable", in other words quite generic, this can be said about any project anywhere. You can look at the plan, basically, a bar, a linear concourse scheme with perpendicular bars in a "comb" typology, nothing innovative, how can this project be about Mexican "identity"?
In a project description of FGP Atelier webpage , the text goes as follows: "Our goal was to create an iconic landmark for Mexico without relying on structural acrobatics or excessive complexity. Instead, we wanted to draw upon the legacy of great modern architecture in Mexico defined by simplicity, clean lines, and innovative structural solutions to create a work of architecture that was inspiring through its grand scale, unique shape, intuitive plan, and exceptional detailing of all the components". Of course they need to say it has no "excessive" structural design in reaction the Foster's airport which was about that, as well as talking about a "unique shape", the shape is a common "box," It is a complete cliché, we've seen that project many times, in a kinds of programs.
To add to this ridiculous series of classic cliché statements the architect said: "We are happy to be able to help Mexico receive the infrastructure it deserves because with technology we are giving it a different approach, it will be very different. If Mexican architect don't find this ridiculous, insulting and demeaning, I give up!
In spite of all this corruption and manipulation, which by the way it was one of the reasons to cancel Romero-Foster's airport, AMLO'S personal whim, this poorly studied, sadly designed project has officially started construction, once again, no protest, nothing said, pure apathy. But now this airport faces new problems the real construction cost in a seriously impoverished economy partly due to the lack of vision from the federal government and to make this worst in the middle of a serious COVID 19 pandemic affecting Mexico and its complicated aftermath.
The negative reports have started to appear, like the one presented by a firm specialized in the aeronautical sector based in Australia, called Center for Aviation (CAPA) assured that the is going to be 700 million dollars more expensive than having finished the construction of the New Mexico International Airport (NAIM). The report explains that the cost of construction of the new airport in Saint Lucia is already at 4.7 billion dollars, although it could increase even more, since the latest estimate we know of is from August 2019. In June 2020, there are no new numbers but it is predicted the cost went up again. However, that will be difficult to know, since the project has now been classified as confidential. No transparency, absolute corruption. To make matters worse, to the 4.7 billion dollars, we must add the costs of canceling the NAIM for the compensation payments and debt bonds, which represents an additional expense of up to 9 billion dollars.
The total cost of federal government projects already totals $ 13.7 billion, against $ 13 billion that was needed for the completion of the NAIM (Romero-Foster's Project). "The cost of construction originally announced was approximately $ 1 billion in 2018.
Additionally, AMLO'S Government will stop earning dividends the land of the Benito Juárez Airport (now in operation) is sold, and the new airport goes into operation. However there are all kinds of certifications that the project must pass before it's operable, not to mention the lack of integral planning with the other airports and it appears it's going to be insufficient, Just recently, AMLO visited the work in progress at Santa Lucía and assured that the change from Texcoco's site to this base will imply a saving of 100 billion pesos (about 5.2 billion dollars). Populist lies, no real numbers, as long as your "personal agenda comes true." One last thought, what will they do with the skeletons, the ones of the mammoths that were found on the site and ones coming out of the closet?
GE.
Comments:
Let's break this down.
FIRST: What kind of flight capacity does CD MX airport need? I understand that a city the size of Mexico needs more than 400 gates. It seems to me that the old airport has less than 100 and the canceled NAIM was only going to reach above 200 gates. It seems to me that this one from Sta. Lucia is barely over a hundred, that is, we're going back to square one.
SECOND: For the number of gates required to be functional, at least TWO RUNWAYS are required that are working concurrently. The NAIM had this feasibility. Sta. Lucia doesn't.
THIRD: To divide this airport traffic into three shitty airports, the old Mexico City one, that of Sta. Lucia and Toluca airport is unaffordable since the hangars, maintenance personnel, spare parts, supplies, tractors, maintenance workshops, crews, tickets, have to be multiplied by three.
FOURTH: There is NO defined transportation plan between terminals, not even with the Mexico City Airport alone, something that will be efficient in short flights and communication times is required.
FIFTH: Perhaps the part that is most overlooked is the importance of an airport of this size NOT ONLY relies on the passenger transportation but in the case of the Mexico City airport the AIR CARGO plays a perhaps more important role and perhaps the question we need to ask is: What about t about numbers, logistics, warehouses, inspections, etc.
Jorge Gómez-Piňa